Our Philosophy
We have a belief in our grooming that every dog should be loved and treated as they were one of our own. In most cases our clients and their dogs do become part of our families. When we say our clients are FurrLife we truly mean it!

Meet the Team
We are family owned and operated from the inside out. We treat all of our clients as if they were our family! We want to give you the experience for both you and your pet that is both enjoyable and customized just for you. We were established in 2015 but have been in the community a combined almost 40 years. Meet our Team!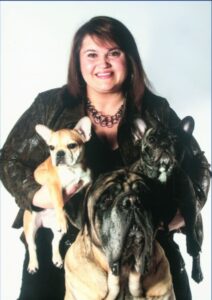 Jennifer has been in the industry over 27 years professionally. Her love of animals has been there since the day she was born. She grew up with grandparents that raised and showed boxers and a mother that raised Collies and Great Danes. There are many childhood memories she has of spending a summer day over at a neighbors brushing out and bathing their dogs in their front yards. It is no coincidence that her love and passion of grooming has expanded into her adulthood. Jen graduated from Twin Cities School of Pet Grooming back in '93. After that she spent the next few years grooming show poodles, cairn terriers, schnauzers and many other breeds. She helped establish the grooming departments for Pet Food Warehouse in Minnetonka and Brooklyn park back in '94/'95 and enjoyed every second of it. Owning her own place was always her dream, which finally became possible in 2015 when FurrLife was born. To be able to work alongside her family has become such a blessing. She loves being able to share her love and passion of grooming with her children. Jen also is a certified Canine Massage Therapist as of 2019.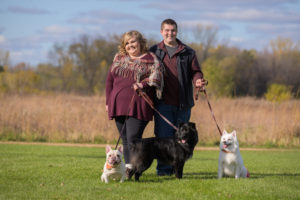 Hallie has been grooming with her mother since she graduated in 2014. She is Jen's oldest daughter and has been with FurrLife since the beginning. Hallie was the first to be trained and certified in Canine Massage Therapy in 2017. Hallie lives with her husband Nick and they have 4 dogs Luna (American Eskimo), Chunk (French Bulldog), Winston (Australian Shepard Mix), & Kota (Mastiff Mix) and their 3 cats Tubbs, Felix and Bob. Grooming and Massage Therapy has become Hallies' joy and passion just like her mother. She couldn't imagine her life any other way.
Apprentice/Bather since 2018
Caitlyn began her journey with FurrLife in 2018. She has worked her way up from being a bather to now working in on honing in her grooming skills as an apprentice. She has 2 cats named Steve and Bynx, 3 dogs Una (Mastiff), Helen (French Bulldog), and Ellie (Terrier Mix). She also has a passion in equine with her spotted draft Horses named Grace, Warrior, and Lilly. She is Jens Middle daughter, so her love of animals also started at the very beginning. Caitlyn grew up showing Saint Bernards, mastiffs and frenchies. It was only natural that one day she would follow in her mother's footsteps. Caitlyn has also been a Canine Massage Therapists since 2019.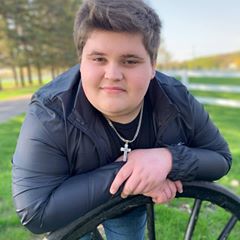 Travis started grooming here in 2018 part-time as a bather while he finished high-school. Then he began his full-time journey here after he graduated in 2019. Travis is learning more about grooming as he advances his skills from a bather into being able to do some of his dogs all the way through. Travis has a huge love of animals and cars. He loves Subaru and his lifted trucks. He has one dog named Anya who is a Frenchie. He likes to spend his free time tinkering on his vehicles and playing video games with his dog.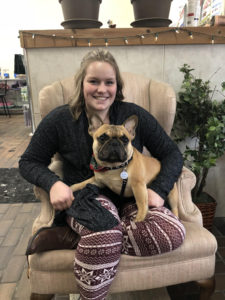 Bather/Receptionist since 2020
Madi officially started at FurrLife early in 2020, but she has became part of the FurrLife Family long before then. She is graduate of the U of M with a Bachelor's degree in early childhood education, but she continues foster her joy of animals by working at FurrLife. She moved to Rochester with her fiance Jake, but still comes up to be with us 3-4 days a week. Madi & Jake have 3 Frenchies named Patrick, Benelli, & Frankie. They also have Murphy (great dane mastiff mix) Madi enjoys showing the frenchies at dog shows regularly and loves to continue her love of obedience and training with all of her dogs.