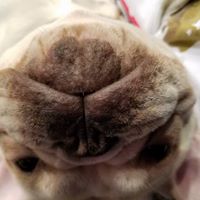 One of the big questions we get when it comes to grooming is what is all included in our grooms. All our prices will vary as every dog is different and require all different types of care.
What is included? What are our prices based on?
Our prices are based on a dog that gets done every 6-7 weeks and for a haircut a half an inch or shorter. If you go longer than 6-7 weeks in between grooms or if you like your haircuts to be fluffier and longer than half an inch our prices will go up from there. There also can be additional charges for dogs who are geriatric, aggressive or have anxiety that may require additional groomers or going slower that can impact your pricing as every dog here is different and every dog here has different needs.
In their grooms they get two shampoo's, conditioner, leave-in remoisturizer, teeth brushing, ears cleaned and/or plucked(if necessary), anal glands checked, nails trimmed and/or dremeled and for their haircut a half an inch or shorter. they also get a bandana and/or bows as an option as well.
What kind of products do we use?
when it comes to products every product in here we choose for a reason. all of our shampoos we choose are paraben and sulfate free. we have multiple different options for hypoallergenic shampoos and shampoos specifically designed for every different hair type. all of our finishing sprays, ear cleaners, teeth care products, and specialty products are handpicked for the best options for the well-being of our furry loved ones. All of our disinfectants and cleaners are all pet safe and also EPA preferred disinfectants acceptable to be used against the spread of a multitude of viruses, bacteria, and diseases. This allows on to be able to create the cleanest environment possible for both our clients and our four-legged family members. If you have any more questions on the specific kinds of products we use or why please contact us and we will be more than happy to tell you all about it!